You are here :
World
> North America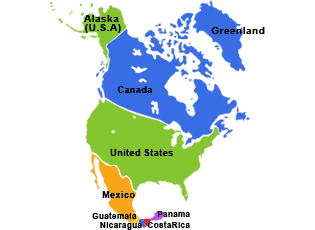 About North America
---
From Atlantic to Pacific, North America's terrific. Start at the top, and say "Oh, Canada!" Vancouver and Toronto are cosmopolitan and cool fun while Montreal charms with its cafe ambience and exquisite food. The Canadian Rockies simply define spectacular. Dotted with aquamarine glacier-fed lakes, they're even higher and more stunning than their counterparts to the south, eh?

And then, there's little old America. From New York to California, Alaska to Texas, the U.S. is both exactly like and totally different from the way it's pictured in the movies. Ride a donkey to the bottom of the Grand Canyon or an elevator to the top of the Sears Tower. Whale-watch in Seattle, lose yourself in Las Vegas or leave your heart in San Francisco.

Mexico is divine the moment you leave its rather seedy border towns. The Pacific coast resorts are gorgeous and great for surfing, the Caribbean side is a string of sun-drenched jewels, including Cancun and Cozumel. There are mountain havens like Oaxaca and Cuernavaca, jungle ruins, Aztec pyramids. Even overwhelming Mexico City has its beautiful districts, and the people everywhere are sweetness itself. The food? Ole! Mexico, for many, is the real star of North America. (Pssst, amigo: It's a lot cheaper, too.)No matter where you decide to rest in this vast continent, Agoda offers a great choice of hotels and resorts at great prices.
All country in North America